Liability insurance for concrete contractors provides critical protections for businesses operating in this high-risk industry. To find the most comprehensive coverage with the lowest possible premium, trust the experienced team at Four Seasons Insurance Agency in Sandy, Utah.
As an independent agent, we work for you – not for any specific insurance carrier. This allows us to shop the market and find the best options for you. We compare policy terms, coverages and premiums, so that we can recommend the right options for protecting your business and giving you peace of mind.
Concrete Contractors Liability Insurance Requirements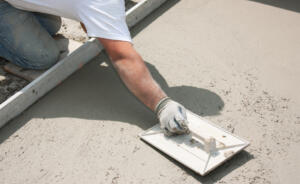 If you're a licensed concrete contractor operating in Utah, you are required to have general liability insurance coverage in force at all times. Virtually all commercial construction project owners and general contractors also require subcontractors to provide their proof of insurance before you can begin work.
For residential construction projects, being a licensed and insured contractor is the basis for establishing a strong reputation and earning your customers' trust.
Having comprehensive liability coverage also protects you, your business and your assets. If damage occurs or if someone sustains an injury on a jobsite, one lawsuit could cost you everything. Having the right type of insurance and sufficiently high policy limits will help protect everything you have worked so hard to accomplish and build in your business.
Options for Purchasing Contractors Liability Insurance
Concrete contractors often struggle to determine what type of liability coverage they need and what policy limits are appropriate. You may try asking your personal insurance company or ask for recommendations from friends or business associates. You may even try to find coverage online but, often, this causes more confusion than ever.
Working with an independent agent provides clear advantages, especially as compared to captive agents and insurance companies. Your agent works for you, rather than the insurer, and has access to a variety of insurers and policy types.
Your agent will monitor your coverage over time, to ensure that your insurance adapts to growth and changes in your business. An independent agency can also help you manage risk, allowing you to save as much money as possible on your premiums.
Independent Agents Help Utah Concrete Contractors with Liability Insurance
When you trust an independent agent with your business insurance coverage needs, you have a powerful advocate on your side.
At Four Seasons Insurance, we represent a variety of highly rated insurers but, ultimately, we work for you – our client. That means we shop the market on your behalf to find the right coverage and the lowest possible premiums.
We take the time to get to know you and understand your business. Our value-added service and one-stop shopping make it easy for you to get the coverage you need without having to invest the time to compare policy premiums, benefits and features. Our exceptional service and proactive communication ensure that we are always there for you, to answer your questions and provide the information you need.
If you would like to learn more about our company or request a free quote for concrete contractor liability insurance, contact us today.