Liability insurance for electricians provides critical protection for businesses in an inherently risk-prone industry. In Sandy and throughout northern Utah, Four Seasons Insurance Agency helps electrical contractors with liability insurance and related coverages.
Liability policies vary in scope and cost and, unfortunately, this can be a complex subject for business owners to out. To most effectively manage your risk and ensure you have the right coverage in place, you need an experienced liability insurance expert on your side.
Electrical Contractors & Liability Insurance Requirements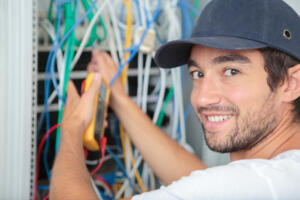 Licensed contractors of all types must maintain general liability coverage for legal compliance and to protect their business. Electrical contractors face an increased level of risk, based on the nature of the industry. Every day, you face the risk of non-employees being hurt on your jobsite and citing your company as the cause. Property damage related to your work is also an ongoing risk, for which you need electricians liability insurance coverage.
In addition to general liability coverage, some electrical contractors elect to purchase a liability policy to cover potential damage to the environment – a growing aspect of contractor liability.
Professional liability coverage will protect you in the event of errors and omissions committed in the course of your work. Because you can't oversee every one of your workers every minute of the day, this coverage can be invaluable in the event of an unexpected problem with a current or past project, or with a litigious client.
Finding Affordable Electricians Liability Insurance
Despite the robust Utah construction industry, liability insurance for electricians remains difficult to source and often comes with disproportionately high premiums. An independent insurance agency provides the most effective way to find the right coverage for the lowest possible price.
Independent agents have access to insurance products from many different types of insurers. Rather than work for any specific insurance company, your agent works for you – handling the legwork and comparison shopping that gets you the best policy and the lowest premium.
Trust Your Local Utah Independent Insurance Experts
The Four Seasons team represents many of the finest insurance companies in the industry – the names you know and trust. Our customer service is highly personalized, ensuring that you always have someone there to help you with your questions and coverage needs.
When you trust us to assist you with your contractors liability and other insurance products, our team will take the time to get to know you and understand your business. This allows us to recommend the right types of policies and levels of coverage for your needs. We can also help you implement a comprehensive risk management program, to help keep your premiums as low as possible.
Contact us today to learn more about the Four Seasons Insurance Agency team. We provide a no-cost, no-obligation review of your current coverage and premium quotes are always free. We look forward to helping you with all your Utah insurance needs, including electricians liability coverage.